05.14.2013
KRYSTAL KEITH'S FATHER'S DAY GIFT TO THE WORLD Nearly a million fathers and daughters moved by "Daddy Dance With Me."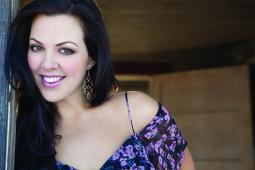 (NASHVILLE, Tenn.) Every father looks ahead to their daughter's wedding with mixed emotions. No dad wants to surrender the apple of his eye, the little girl who once thought he hung the moon and drew pictures of him for Father's Day, to a new guy. Well, when Krystal Keith wrote "Daddy Dance With Me" for her father, superstar songwriter Toby Keith, she gave him the greatest gift a daughter can give.
All dads really want to know is that we're not being replaced; although there's this new man taking care of our little girls, we'll always be the chairman of the board. This is what Krystal says to Toby in the song - and its video, which is rapidly approaching one million views on YouTube. "I wanted a song that honored my dad," Krystal says, "and was something special on my wedding day. So I wrote and recorded it behind his back. The idea was to surprise him with a song that no bride and father had ever danced to before; it was my gift to him."
So for Father's Day, who needs a new set of golf clubs or another bottle of Old Spice? A daughter's pledge of undying love trumps any material possession. Especially when it's done with memorable eloquence: "Today I became his wife, but I'll be your baby girl for life." Why not hop on iTunes and buy him the track for his special day?
If YouTube traffic is any indication, fathers and daughters will dance to "Daddy Dance With Me" for years to come. As of last week, the video was rapidly approaching one million views. It's no wonder. The song itself is touching, but the clip chronicling a father-daughter relationship from birth, would move even the most stoic father. Never mind the daughters who are looking to express the same sentiment at their own weddings.
The tune, co-written with Mica Roberts and Sonya Rutledge, will be featured on Krystal Keith's upcoming debut album Whiskey & Lace. The video was directed by Michael Salomon for Frames Per Second Productions.
Back